Case Example

A public health and primary care collaboration in a small community involved a public health nurse seconded to the primary care practice one day per week. Although this is a form of optimal use of human resources – a closely related factor- this public health nurse provided various non-human supports to the clinic as well.
Funding for the secondment from public health was an additional financial resource made available to the community health centre through a provincial grant.
The public health nurse was able to leverage various non-human resources in the collaboration. She supplied public health information and other material resources such as dental kits and smoking cessation kits to the clinic. She also provided information related to community services to link patients to various social services in the community.
Here is an example of an evaluation conducted of this collaboration six months after is began. Members of the collaboration completed a Partnership Self-Assessment tool (PSAT).
PSAT Guide Summary
PSAT Questionnaire
Partnership Self-Assessment Tool (PSAT)
The PSAT – which is a valid and reliable measure of partnership synergy – measures the extent to which the partnership currently has what it needs to work effectively and achieve its goals. It covers non-financial resources and capital resources among its measures.
The nonfinancial resources included as follows: skills and expertise; data and information; connections to target populations; connections to political decision makers, government agencies, or other organizations or groups; endorsements that give the partnership legitimacy and credibility; and influence and ability to bring people together for meetings or other activities.
Capital resources relate to funding and other types of infrastructure costs such as space.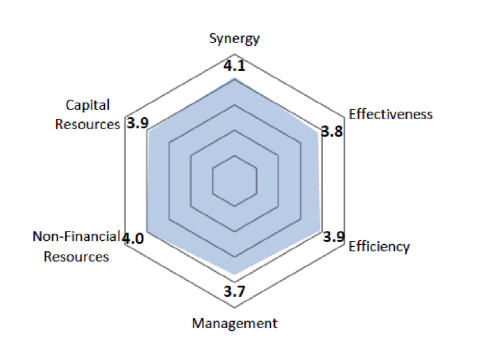 Partnership Self-Assessment Tool (PSAT) Scores for Synergy, Partnership's Leadership, Efficiency of Partnership, Effectiveness of your Partner's Administration and Management, Sufficiency of Your Partnership's Resources, Partnership's Financial, and Other Resources by Case.
Key for Figures: Results from PSAT for Each Case
Synergy: Synergy; Effectiveness: Effectiveness of Partnerships Leadership; Efficiency: Efficiency of Partnership; Administration: Effectiveness of Partnerships Administration and Management; Non-Financial Resources: Sufficiency of Non-Financial Resources; Capital Resources: Financial and Other Capital Resources
As you will see from a Kiviat graph which displays the results from the collaboration in this case, this collaboration scored well in the non-financial (score 4.0/ 5) and capital resources (score 3.9/ 5) categories. The interpretation of these scores from the table is outlined below per the red highlights.

Zone ranges / definitions:
1.0-2.9 - Danger Zone - means that this area needs a lot of improvement


3.0-3.9 - Work Zone - means that more effort is needed in this area to maximize the partnership's collaborative potential




4.0-4.5 - Headway Zone - means that although the partnership is doing pretty well in this area, it has the potential to progress even further


4.6-5.0 - Target Zone - means that the partnership currently excels in this area and need to focus attention on maintaining its high score

Key for Figures: Results from PSAT for Each Case
Synergy: Synergy; Effectiveness: Effectiveness of Partnerships Leadership; Efficiency: Efficiency of Partnership; Administration: Effectiveness of Partnerships Administration and Management; Non-Financial Resources: Sufficiency of Non-Financial Resources; Capital Resources: Financial and Other Capital Resources